I only chose to visit Morioka because it's on the shinkansen line, around half-way between where I was the day before and where I was going the next day. It looked like it had interesting scenery, with high mountains surrounding the town, and that was enough to prompt me to book a hotel there. In the event, low clouds shrouded the mountains until after dark.
What I discovered, on the way, was that I would arrive on the last day of the summer festival, which is marked in Morioka with an event called Funekko-nagashi. It started as a Buddhist ritual for remembering the dead, but has evolved into a form where teams of men float ships loaded with fireworks onto the Kiakami river, and set them alight.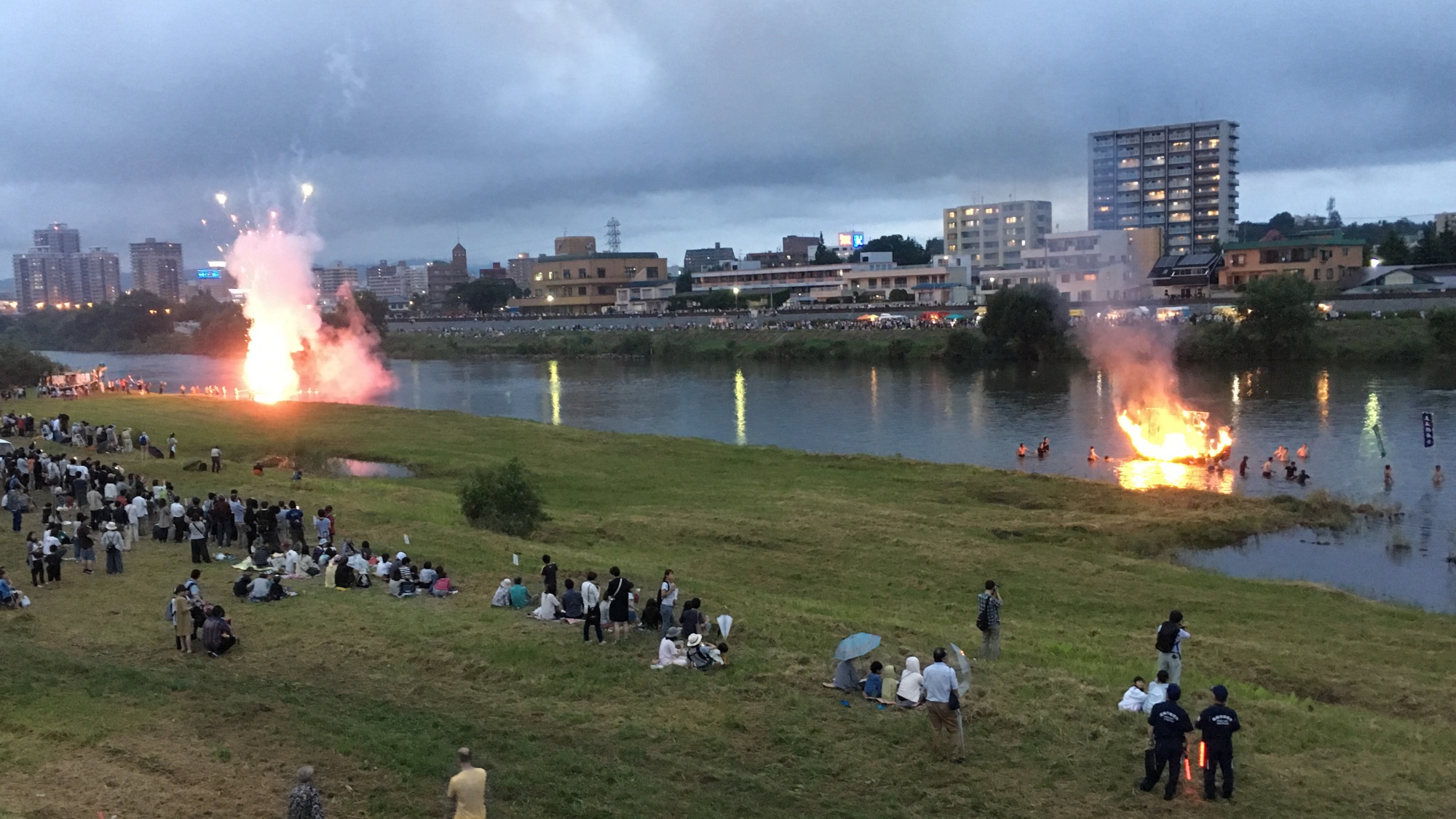 It was great fun to watch, but quite by chance that I was in the right place at the right time.
And that reminded me of one day at the start of 1986, when I walked out of Manchester Victoria station, looked up, and saw smoke pouring out from the roof tiles of the building directly across the street. It was a victorian terrace of shops, in front of a patch of waste land which looked to have been cleared for a new development. Within minutes, smoke was coming out from the tiles all the way along the short terrace. As flames began to appear in the upstairs window above a shop selling cheap electrical goods (where the fire must have started), the fire brigade arrived; but with the wooden roof frame well alight right along the terrace, I'm sure that was the whole terrace's last day. No doubt it was demolished shortly after. I remember the special offer signs in the dirty old windows, which typically for those days, were made from fluorescent-coloured cardboard, cut out in stars and spiky shapes to draw the eye.
What struck me at the time, and what I remembered in August 2017, was the way I was in the right place and time, out of the hundred-year history of that building, to see it burn. The next day, it would just have been ashes). Much like the ceremonial boats at Morioka.