I've written about my contributions to OpenStreetMap before. Surveying the ever-changing Newcastle Helix site for OSM, I noticed that part of Corporation Street no longer exists on the ground, bulldozed to make way for a new building that is just being started.
There's not much left of Corporation Street now (below and to the left of the centre of this map):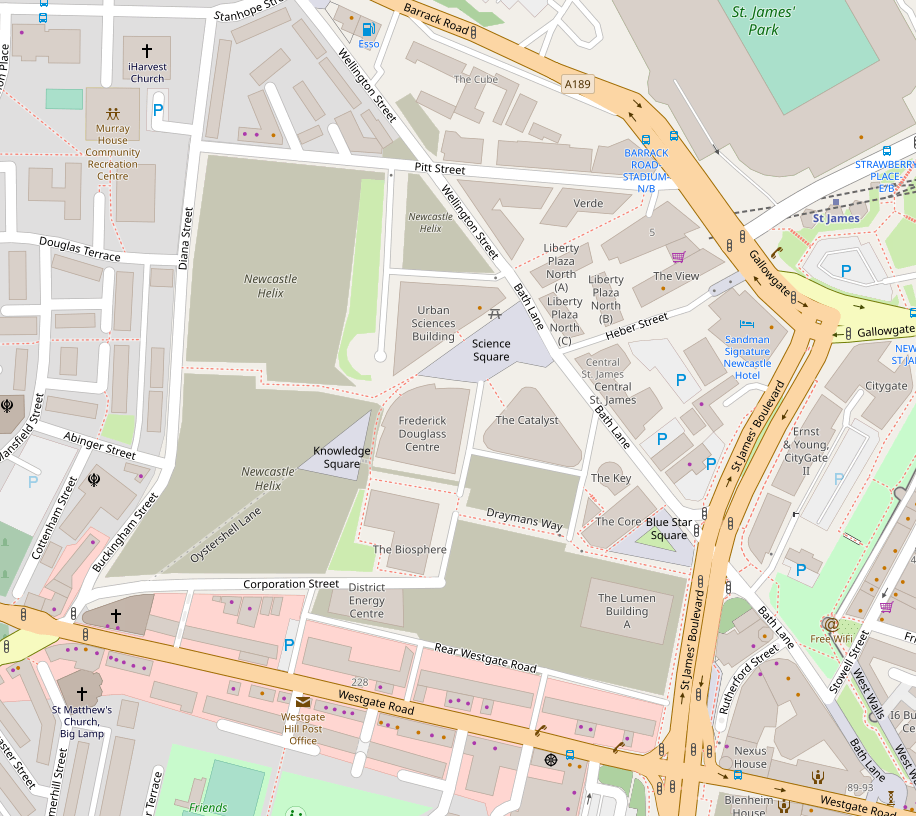 The khaki areas indicate construction sites. For context, I've included St. James' Park and Westgate Road down to where it meets Bath Lane, in the bottom right-hand corner, at the end of the surviving section of the city wall.
Then I got curious about Corporation Street. In some other towns, Corporation Street is right in the centre, a symbol of the borough corporation's zenith of power and influence. Here, it's not much more than a back street. What's its history, I wondered?
So I went to the Lit&Phil, where they have a map collection, and found this Town Plan from the 1930s: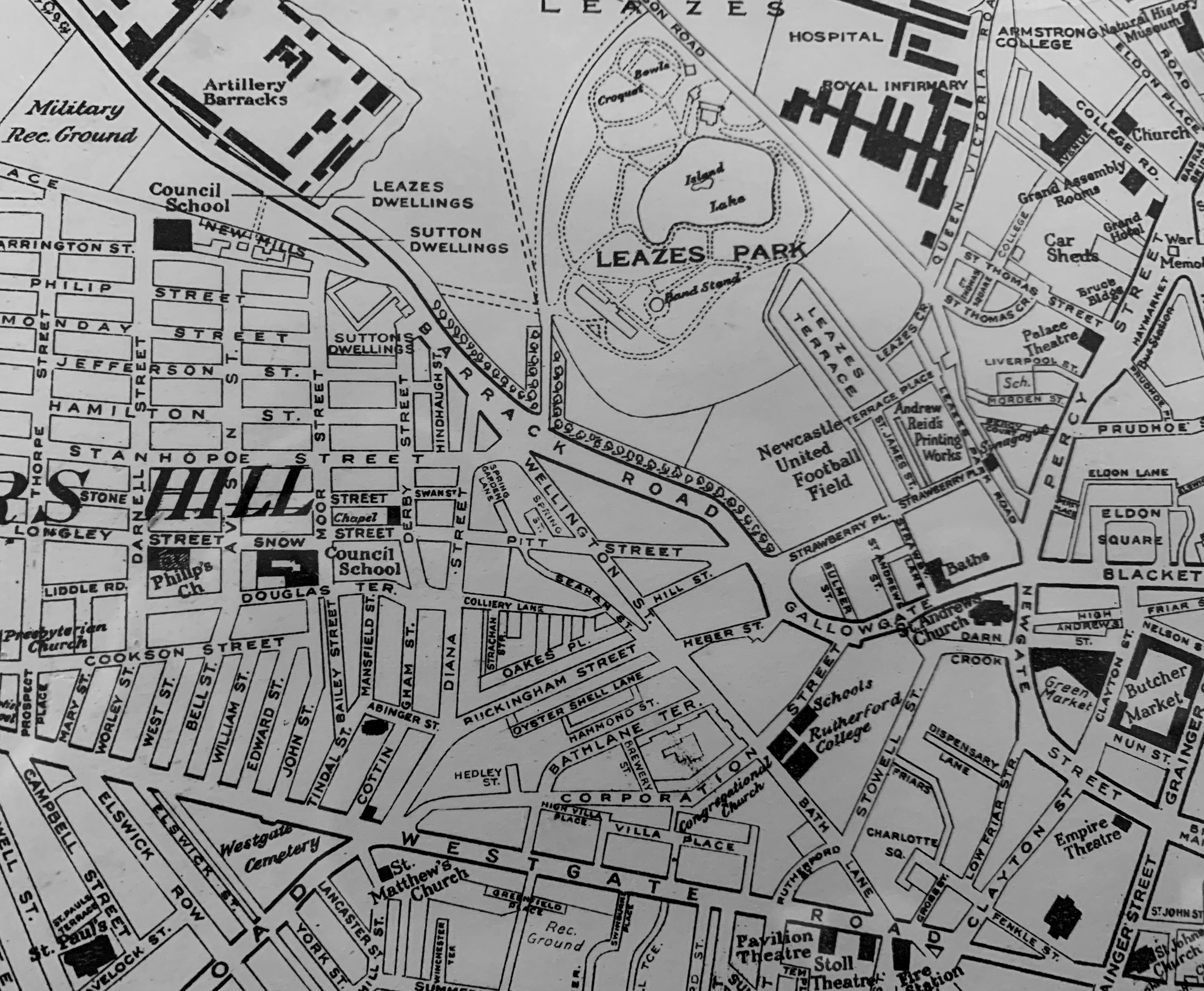 Sure enough, there was more of Corporation Street; it can be seen crossing Bath Lane and going on to meet Gallowgate - in fact it looks like it became part of what is now St. James' Boulevard. The city wall isn't considered important enough to feature on this map, but it runs between that section of Corporation Street and Stowell St.
Which still doesn't explain why it's such a peripheral street. I decided to go back to the Lit&Phil and look at older maps. Here is the area on the 1894 OS map: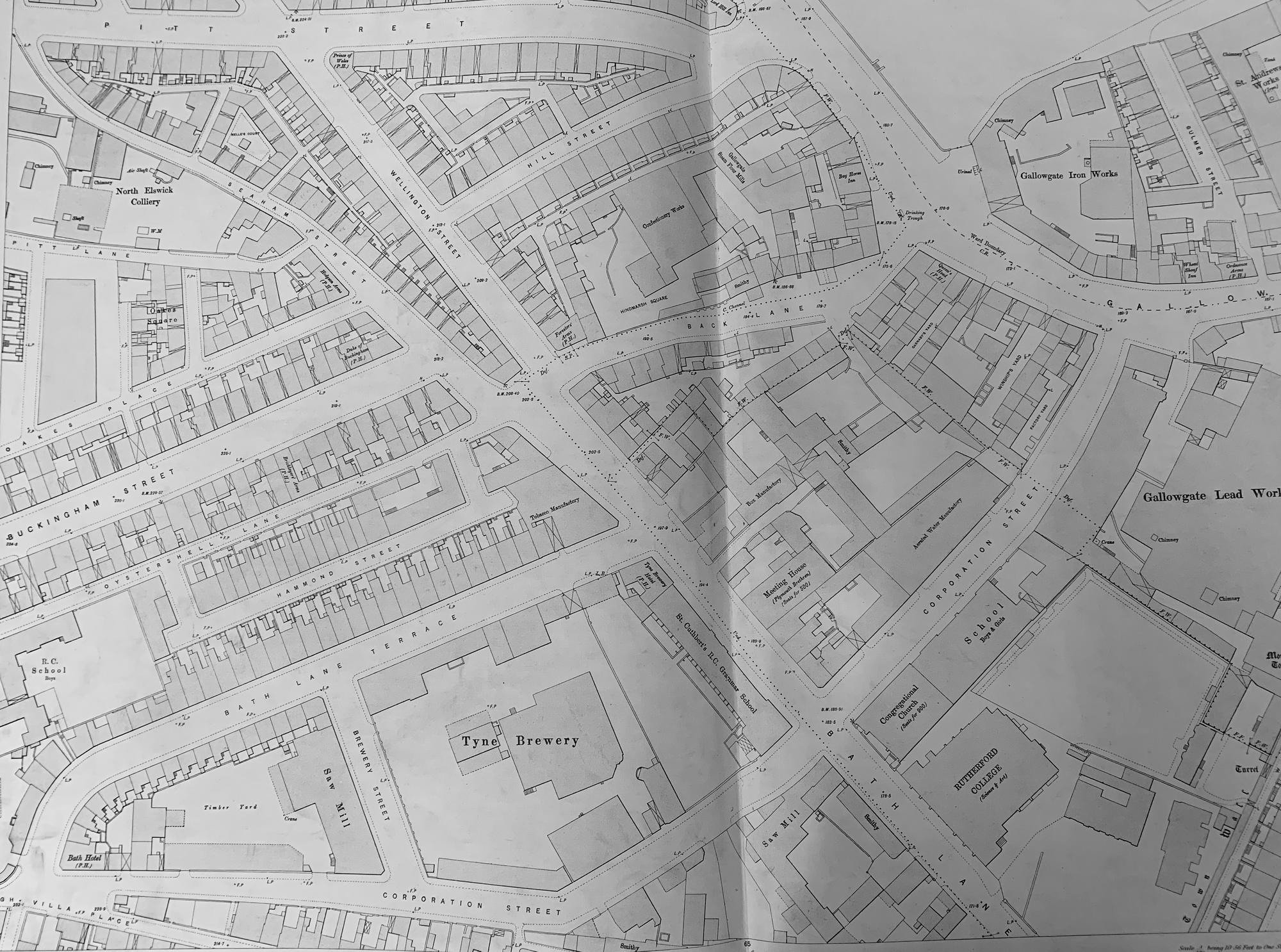 At this date, the west end of Corporation Street met High Villa Place and Cross Villa Place No. 4 - well to the east of Buckingham Street (as High Buckingham Street is now called). On the previous map, Corporation Street has taken over Hedley Terrace and today it has also taken over the south end of Buckingham Street. So in fact, nearly all of today's Corporation Street, had other names in 1894!
The 1894 Corporation Street runs alongside two Saw Mills, the Tyne Brewery, an Aerated Water Manufactory and the Gallowgate Lead Works, among other factories. What these maps don't show is that Westgate Road, Bath Lane and Gallowgate all slope downwards. So does the western end of Corporation Street, but after that it would have been almost level, following the contour. My only guesses as to why it was built would be to keep factory traffic away from the narrower, medieval streets within the city walls; and to create a more level route for factory wagons, which before 1890 would still all have been pulled by horses.
So when was Corporation Street built? This is the beautifully coloured OS map of 1861, which I hadn't consulted before. (You can do "view image" in your browser to see larger, more readable versions of all of these maps.)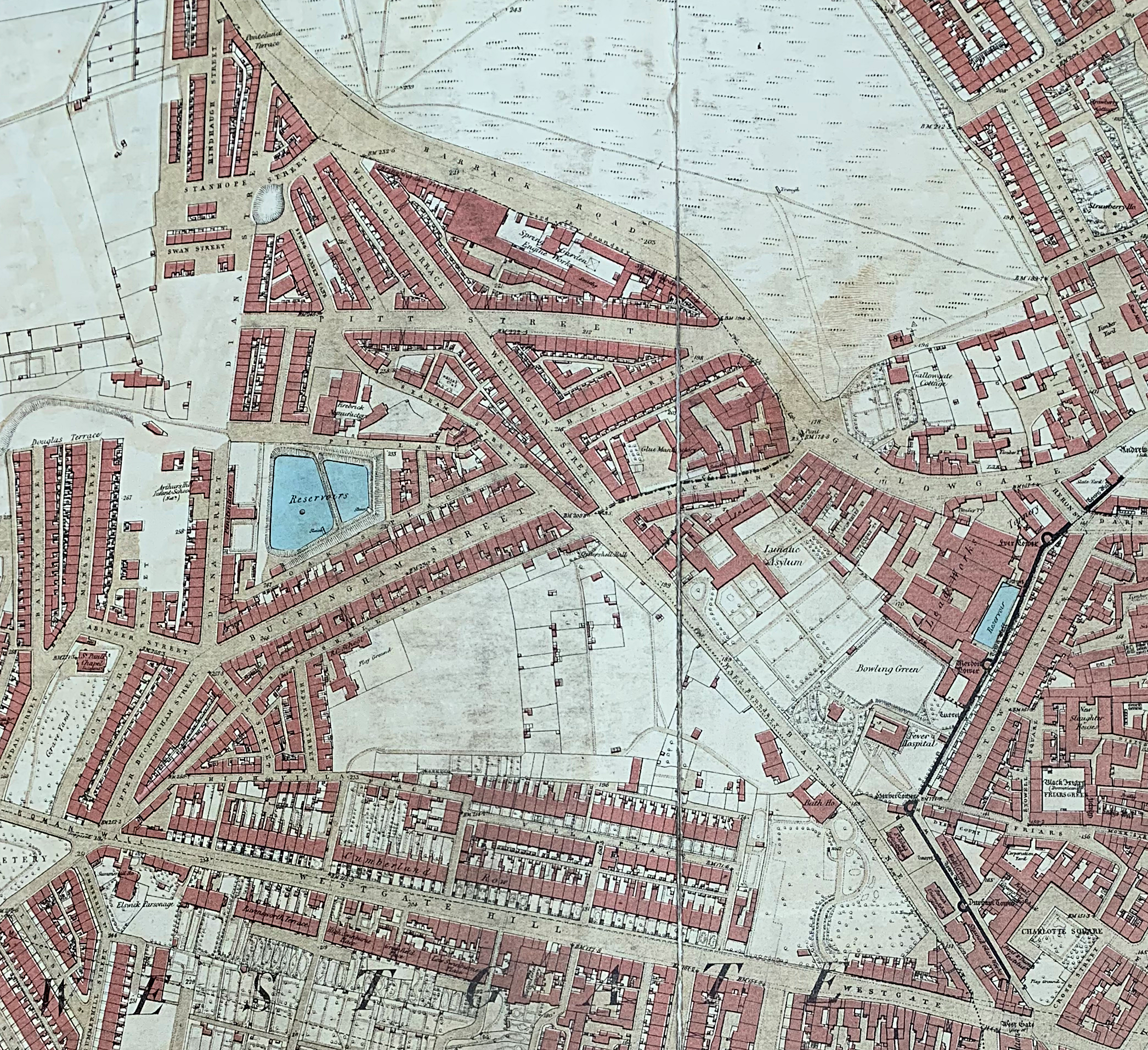 Corporation Street had not yet been built, nor Bath Lane Terrace, nor the Tyne Brewery which sits between them. The land between Oystershell Lane (which survived to the start of the Helix building works as a cycle path), and High Villa Place was undeveloped land. And to the west of Bath Lane (so called for the public baths there) are four large gardens which might belong to the Lunatic Asylum; an obvious target for road-building. Since the Tyne Brewery was founded in 1864, that puts Corporation Street neatly between 1861-4, assuming the OS map wasn't already out of date by the time it was published.
What I also find interesting is how small Newcastle must still have been in 1861. There are some streets surrounding Westgate Road, but the land to the west of Barrack Road was developed only as far as the barracks (which you can see on the 30s town plan). Diana Street, which runs north-south between Barrack Road and Upper Buckingham Street near the left side of the map, is unfinished at this date, and to its west are smallholdings and then farmland. But by the 1890s brick terraces streched westwards as far as the eye could see.
And now, Diana Street and (Upper) Buckingham Street form the west side of the Helix site, which is bounded to the north by Pitt Street, to the east by Wellington Street/Bath Lane, and to the south by what's left of Corporation Street and the alley which once ran between the backs of houses on Villa Place and those fronting onto Westgate Road. The council, according to a resurfacing notice I spotted, are calling it Rear Westgate Road (so that's what appears on OSM). In effect it's been promoted to a named street; while Villa Place and High Villa Place, Harle Street, Hedley Street, Hedley Place and Hedley Terrace, Hammond Street, Brewery Street, Strachan Street, Colliery Lane, Bath Lane Terrace, Oakes Place and Oakes Square, Pit Lane, Hill Street and Seaham Street have all disappeared under the Helix site. Back Lane had been renamed Heber Street by the 1930s, and of Oystershell Lane and Corporation Street, only fragments survive.